In this article, we'll showcase 5 examples of AI-powered listing copy. These samples demonstrate how agents can leverage AI writing tools to craft tailored property descriptions that highlight amenities, lifestyle benefits, and the unique character of any home or neighborhood.
The AI listing generator analyzes property details then seamlessly weaves them into compelling narratives designed to excite buyers. Listings become less about facts and features and more about painting a vivid lifestyle picture.
Let's dive into these 5 creative examples that prove AI can help any agent instantly improve their real estate copywriting skills.
Here are 5 creative AI-generated real estate listing description examples:
Charming Cottage Listing
Tucked away on a tree-lined street, this storybook cottage emanates old-world charm. The moment you step inside, you're enveloped in its warmth – from the stone fireplace casting a cozy glow to the sun-filled rooms accentuated by chic details like crown molding and hardwood floors.
French doors in the living room lead out to an expansive yard with lush gardens. It's easy to imagine relaxing on the covered patio with a good book or hosting intimate backyard gatherings around the firepit. With two nicely-updated bathrooms and a chef's kitchen with stainless steel appliances, the cottage seamlessly blends character and modern convenience.
This could be your new urban oasis just minutes from downtown, yet feels blissfully peaceful. Don't miss this rare opportunity to own a piece of neighborhood history.
Key takeaways
Charming and Cozy: The description captures the essence of the property by using terms like "storybook cottage," "cozy glow," and "sun-filled rooms." This evokes a sense of charm and comfort, making it attractive to those seeking a warm and inviting home.
Indoor-Outdoor Living: It emphasizes the connection between the indoor and outdoor spaces, with French doors leading to an expansive yard with lush gardens and a covered patio. This highlights the potential for outdoor relaxation and entertainment, which many buyers appreciate.
Blend of Old and New: The description mentions chic details like crown molding and hardwood floors alongside modern updates like a chef's kitchen with stainless steel appliances. This balance between character and modern convenience can appeal to buyers who appreciate the charm of an older home but desire modern amenities.
Location Appeal: It emphasizes the property's proximity to downtown while maintaining a peaceful ambiance. This is important for buyers who want the convenience of city living without sacrificing tranquility.
Luxury Mansion Listing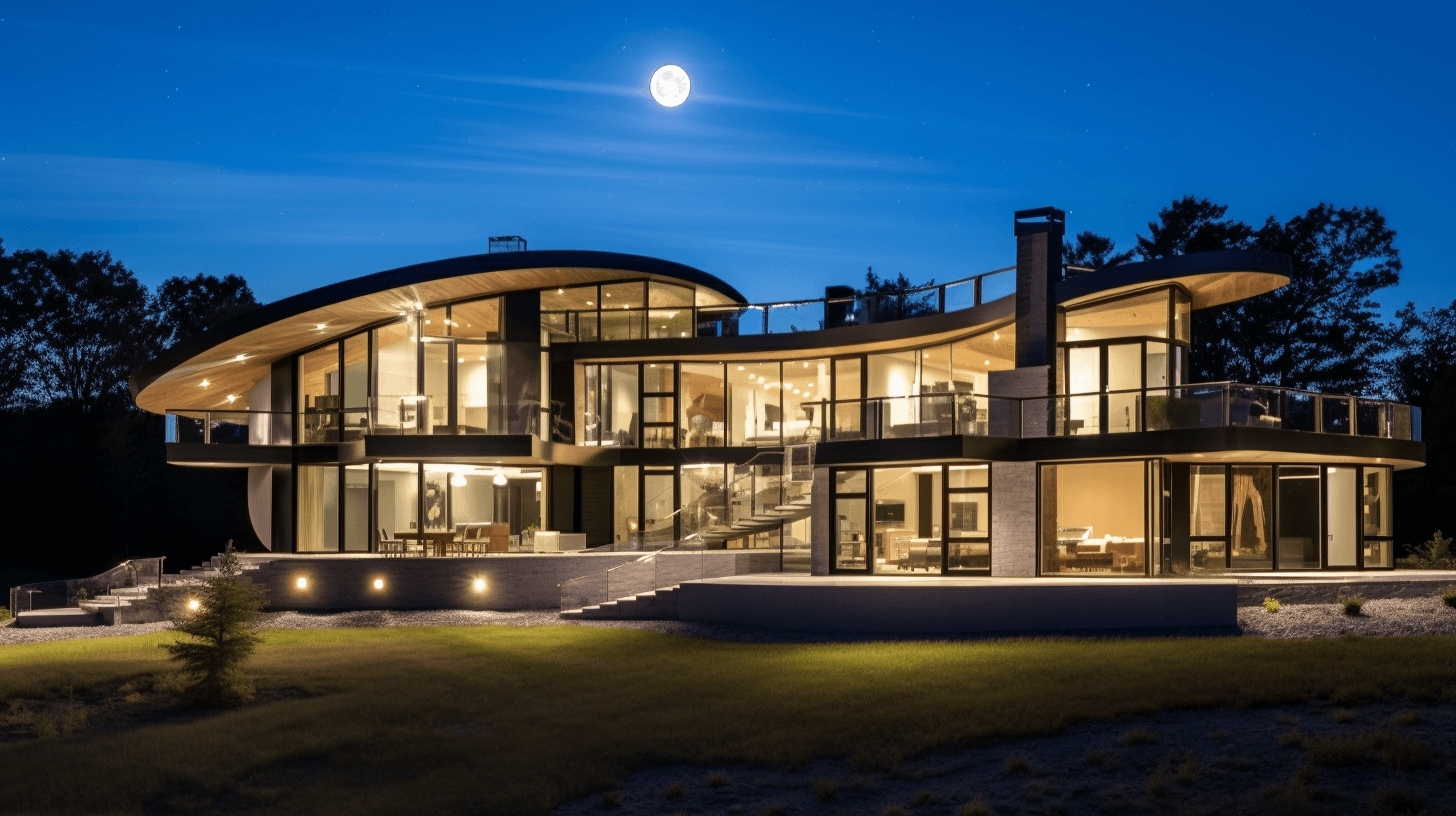 This stunning custom-built mansion is a modern masterpiece resting on 5 private acres. Beyond the grand foyer, find incredible spaces for entertaining from the chef's kitchen and formal dining room to the home theater and wine cellar.
Upstairs is a spa-like oasis with a luxury primary suite featuring dual walk-in closets and a bathroom with heated floors, jetted tub and glass shower. Three more sizable suites accommodate guests perfectly.
Outside, resort-style amenities abound from the negative edge pool and outdoor kitchen to the putting green. The tiered patios provide sweeping vistas across manicured lawns and gardens. For vehicle enthusiasts, there's a 6-car garage. Smart home technology, high-end finishes, and exquisite attention to detail ensure this home delivers luxury living at its finest.
Key takeaways
Grandeur and Luxury: The description begins with the term "Luxury Mansion," immediately setting the tone for opulence and prestige. It then goes on to highlight the mansion's grandeur, from the grand foyer to the home theater and wine cellar. This emphasizes the luxurious lifestyle that the property offers.
Spa-like Retreat: It portrays the upstairs as a spa-like oasis, complete with a luxury primary suite featuring walk-in closets, heated floors, a jetted tub, and a glass shower. This description creates an image of comfort and relaxation that many affluent buyers seek.
Resort-style Amenities: The listing emphasizes resort-style amenities, including a negative edge pool, outdoor kitchen, putting green, and tiered patios with sweeping views. These features cater to those who enjoy outdoor living and entertainment.
Attention to Detail: Mentioning "Smart home technology," "high-end finishes," and "exquisite attention to detail" conveys a sense of quality and modernity. Buyers looking for a technologically advanced and well-crafted home will find this appealing.
Urban Loft Listing
This incredible urban loft pairs industrial character with sleek modern style. The sprawling open floorplan centers around a gourmet chef's kitchen outfitted in stainless steel and a massive granite-topped island.
Exposed brick walls, concrete columns, 14ft ceilings, and floor-to-ceiling windows provide loft-living ambiance with an abundance of natural light. The spa-like bathroom boasts a double vanity, freestanding tub and glass enclosed shower.
Walk through glass doors to your private oasis – a landscaped rooftop deck with panoramic views over the city, perfect for entertaining. With an onsite fitness studio and rooftop pool, you'll have boutique hotel amenities right at home. Ideally situated with art galleries, restaurants, and nightlife just steps away.
This incredible loft lets you live an inspired lifestyle in the heart of the city's trendiest neighborhood.
Key takeaways
Vivid Imagery: The description paints a vivid picture of the property, using phrases like "sprawling open floorplan," "exposed brick walls," and "panoramic views over the city." This helps potential buyers or renters visualize themselves living in this urban loft.
Luxurious Amenities: It highlights the luxurious amenities available, such as the gourmet chef's kitchen, spa-like bathroom, private rooftop deck, and onsite fitness studio. These amenities add to the appeal and value of the property.
Location, Location, Location: The listing emphasizes the property's prime location in the heart of the city's trendiest neighborhood, with art galleries, restaurants, and nightlife just steps away. Location is a significant factor for many buyers or renters, and this description capitalizes on that.
Lifestyle: The description appeals to a certain lifestyle – one of urban sophistication and convenience. Phrases like "live an inspired lifestyle" convey a sense of aspiration and the idea that living in this loft is more than just having a place to stay; it's about embracing a certain way of life.
Waterfront Property Listing
Wake up to golden sunrises over the bay in this stunning waterfront home. Panoramic views take center stage through wall-to-wall windows overlooking your private dock and the glistening waters beyond.
Open living areas are perfect for seaside living, centering around a gourmet kitchen made for entertaining. When it's time to unwind, step out to the multilevel decks or screened-in porch to enjoy the salty breeze as you watch boats cruise by.
The luxurious primary suite offers front-row seats to the bay's beauty. With a ship staircase leading from the dock up to your backyard oasis, you'll enjoy easy access to boating, fishing and watersports right at home.
This rare listing combines luxury, comfort, and an idyllic lifestyle only steps from the sand. It's a one-of-a-kind sanctuary sure to create timeless memories.
Key takeaways
Breathtaking Views: The description highlights stunning panoramic views of the bay, creating a vivid image of natural beauty.
Seaside Living: It emphasizes open living areas designed for seaside living, appealing to those seeking a coastal lifestyle.
Direct Access to Water: Mentioning the ship staircase and easy access to boating and watersports underscores the property's water-related opportunities.
Outdoor Spaces: The multilevel decks and screened-in porch provide ample outdoor spaces to enjoy the coastal environment. This feature is perfect for those who appreciate outdoor living and the salty breeze.
Cozy Cabin Listing
Nestled on 5 private wooded acres, this storybook cabin exudes rustic charm and warmth. A stone fireplace serves as the heart of the home, perfect for cozying up on snowy days or making s'mores on summer nights.
The charming gourmet kitchen features granite counters, stainless appliances and a breakfast nook bathed in natural light. Vaulted pine ceilings and hardwood floors further enhance the cozy vibe. Relax in the spa-like bathroom with an oversized soaking tub after a day on the trails.
Outdoors, relax on the sweeping deck perched above the trees or next to the stone firepit and built-in benches. Just beyond, hiking, skiing and more adventures await in pristine wilderness just minutes from home.
Whether it's a full-time residence or private retreat, this exquisite cabin lets you live in the heart of the great outdoors in any season.
Key takeaways
Rustic Charm: The description emphasizes the cabin's rustic charm and warmth, creating a cozy and inviting atmosphere.
Focal Point Fireplace: The stone fireplace is highlighted as the heart of the home, adding to the cozy ambiance.
Outdoor Retreat: It underscores the outdoor spaces, including the deck and stone firepit, making it clear that the cabin offers a great outdoor experience.
Proximity to Nature: Mentioning the proximity to hiking, skiing, and outdoor adventures emphasizes the cabin's location within pristine wilderness, appealing to nature enthusiasts and adventurers.
Conclusion
These 5 creative examples demonstrate the power of AI for generating compelling and unique real estate listing descriptions. By analyzing property details and highlighting amenities and lifestyle benefits, AI can help agents write listings that truly capture attention.
AI takes the hassle out of writing engaging copy. Listings become focused on sparking excitement and emotion rather than just showcasing generic features. In our competitive market, creative copy can be the difference between a home sitting or selling fast.
Any agent can instantly improve their listing descriptions by taking advantage of AI's natural language skills. These samples only hint at the possibilities. So if you're ready to stop staring at blank pages, let our AI listing generator craft the perfect copy to sell your next great listing.